STLPak Bagasse Bento Box
STLPak bagasse bento boxes are made from bagasse, a natural and renewable fiber derived from sugarcane pulp. They are a sustainable and eco-friendly alternative to traditional plastic or foam containers. Whether you run a restaurant, catering service, or food delivery business, our Bagasse Bento Containers offer a sustainable and convenient solution for packaging and serving meals. They are not only good for the environment but also provide a great dining experience for your customers.
Please browse through our catalog or contact us for more information on our Bagasse Bento Containers. We are committed to providing high-quality eco-friendly packaging solutions that meet your needs while promoting a greener future.
This series of hard plastic dessert cups has various styles and complete collocation, widely used in dessert shops, hotels, and other places, and can be used to make mousse, yogurt cake, ice cream, small candy and pudding, and other kinds of desserts so that you can enjoy indulging in dessert. Please send us your inquiries now!
Product Application Range
Succade
Nut
Biscuits
Cereals
Environmental protection and Sustainability
The bagasse bento box uses natural bagasse as the main raw material with excellent environmental protection performance. Compared to traditional plastic food boxes, bagasse food boxes are degradable and have less environmental impact. It is a sustainable option that reduces the amount of plastic waste produced and does its bit for the planet's environment.
High-temperature tolerance and reliable sealing
Bagasse bento boxes have excellent high-temperature tolerance and withstand hot food and drink temperatures. They are specially treated, not easy to deform or become soft, and maintain good structural stability. In addition, bagasse lunch boxes have excellent sealing performance, which can effectively prevent food leakage and ensure the freshness and taste of food.
Multifunctional design and convenient use
Bagasse bento boxes are designed in a variety of scenarios and applications. They are suitable for take-out, fast food, buffet, picnic and other dining occasions. The internal structure of the lunch box is reasonable; the separation area is clear, and it is convenient for separating different food. At the same time, the bagasse lunch box is light and easy to carry and use to provide users with a convenient dining experience.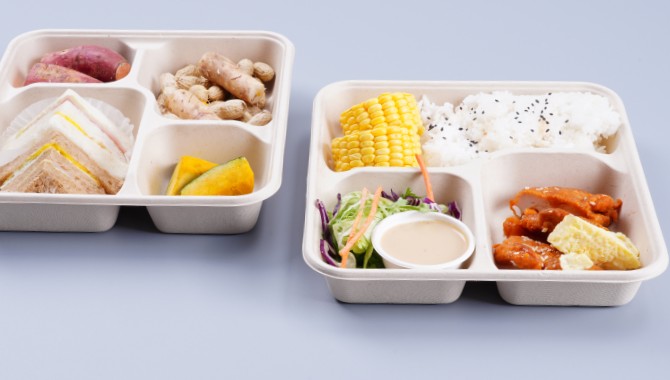 Product Parameters Information
Product ID:SC-91
Weight (Base/Lid): 31/20g
Capacity: 450ml  16oz
Dim: 235*235*45mm
Available Color:  🔲White
Description: Lid and Base Seperate; Bagasse;
Biodegradable
Product ID:XS-031
Weight (Base/Lid): 33/23g
Capacity: 1200ml  42oz
Dim: 240*220*37mm
Available Color:  🟫Natural color
Description: Lid and Base Seperate; Bagasse;
Biodegradable; Compartment
Product ID:FTD-041
Weight (Base/Lid): 35/25g
Capacity: 1200ml  42oz
Dim: 287*227*15mm
Available Color:  🟫Natural color
Description: Lid and Base Seperate; Bagasse;
Biodegradable;
Compartment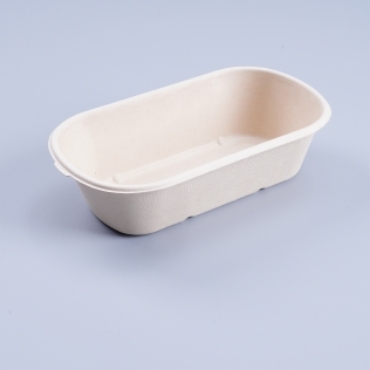 Product ID:N-700
Weight (Base/Lid): 16/12g
Capacity: 700ml  25oz
Dim: 195*115*50mm
Available Color:  🟫Natural color
Description: Lid and Base Seperate; Bagasse;
Biodegradable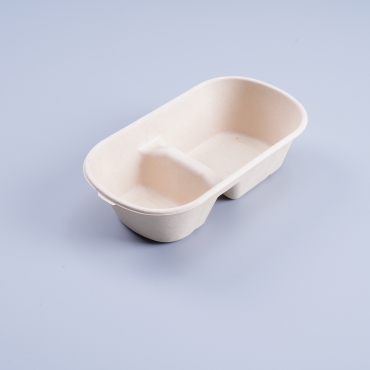 Product ID:N-702
Weight (Base/Lid): 16/12g
Capacity: 700ml  25oz
Dim: 195*115*50mm
Available Color:  🟫Natural color
Description: Lid and Base Seperate; Bagasse;
Biodegradable
;
Compartment
Product Details Introduction
PRODUCT ID
PACKING
(PCS/CTN)
CASE DIM
(L/mm)
CTN DIM
(W/mm)
CASE DIM
(H/mm)
LID DIM
(L*W*H/mm)
CASE CUBE
(Base&Lid/m³)
SC-91
200
560
240
240
560*290*250
0.0323/0.0406
XS-031
300
500
670
440
520*380*280
0.1474/0.0553
FTD-041
300
325
290
470
520*380*280
0.0443/0.0553
N-700
500
590
390
210
630*345*215
0.0483/0.0467
N-702
500
590
390
210
630*345*216
0.0483/0.0467