STLPak Clamshell Grapes
STLPak clamshell grapes for the grid design and multiple pieces of designs, popular in the market and customer choice, several optional. Manufacturer direct sales, quality assurance, health, and environmental protection, the strong buckle of the packaging box is divided into the upper buckle and the lower buckle, close, but still let the fruit keep breathing, even when the clamshell grapes container is stacked storage, air vent around the design can ensure that it is not blocked, effectively maintain the fresh fruit, not easy to produce water at room temperature.
As a professional supplier, we meticulously insist on producing high-quality products under standards and provide you with competitive prices. Please send us your inquiries now!
Advantages of Clamshell Grapes
Customized Service
Users can customize the clamshell grape box according to the weight, size or other needs of the grape box.
Food Material
Using friendly food-grade PET raw materials reduces the environmental impact to a certain extent.
Various Styles
We offer a wide range of disposable plastic grape boxes, whether you are exporting or selling locally.
Vent Design
The collection of containers has carefully designed air holes to ensure a ventilated environment for the grapes.
Air Vent Design, More Fresh Preservation,Easy to Carry
The clamshell grapes are made of food-grade PET material, and the grapes and other food inside the package can be seen through transparent packaging, it is convenient for users to choose from.
The air vent design on the top of the package can keep the grapes breathing and extend the freshness of the grapes, which is a convenient fruit packaging.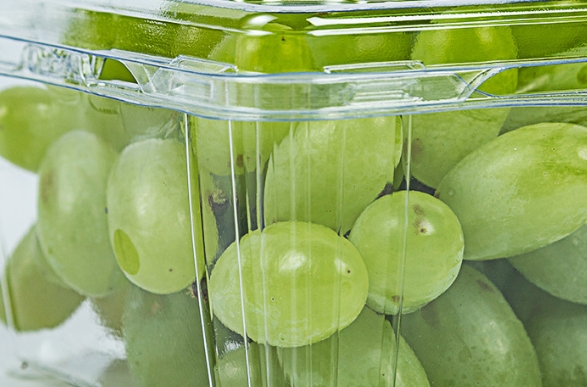 Unique Design, Widely Used and Popular
The classic feature of square and large capacity is clamshell grapes specially created for grapes.
Clamshell grapes are widely used and shared in the market, in line with the needs of the current era. People often buy it in the supermarket because of its unique design and exquisite appearance.
Clamshell Grapes More Applications
Clamshell Grapes Storage Use: The unique design of the clamshell grapes, both practical and aesthetic, aligns with current customers looking for lightweight, breathable and durable characteristics of the clamshell grapes. Exquisite appearance design for you to show the fresh beauty of grapes, let the appetite increase. Of course, the clamshell grapes are usually used to hold grapes and cherries, strawberries, nuts, green salad and other foods.
Clamshell Grapes Applicable Scope: Supermarkets and retail stores are the most common scenes for clamshell grapes. Some fruit markets will also choose clamshell grapes, which is very important to ensure the quality of the grapes. The clamshell grapes are very portable for events and parties. Grapes can be delivered to their destination intact in food delivery.