STLPak Bagasse Sushi Tray
STLPak bagasse sushi tray is designed to enhance your sushi dining experience while minimizing environmental impact. The raw material used in this tray is bagasse, a by-product of natural sugar cane production that benefits the planet and your culinary creations.
By choosing our bagasse sushi trays, you are not only making delicious choices for sushi but also making a positive contribution to reducing plastic waste; let's embrace the eco-friendly sushi revolution and join us in creating a greener future with our amazing bagasse sushi trays, the perfect choice for eco-friendly sushi lovers and businesses.
Product Application Range
Succade
Nut
Biscuits
Cereals
Natural environmental protection, healthy dining
The bagasse sushi tray is made from 100% natural bagasse with no added chemicals to meet the requirements of healthy dining. It is a degradable and recyclable environmentally friendly product, compared to traditional plastic trays; it does not cause pollution to the environment; bagasse sushi trays can be naturally decomposed after use, reducing the negative impact on the environment.
Whether for family gatherings, restaurant dining or takeaway delivery, bagasse sushi trays are the ideal healthy, environmentally friendly companion for a healthier alternative to your dining experience. Choose a bagasse sushi tray to not only enjoy delicious sushi but also actively participate in environmental action and contribute to the planet's sustainable development.
Sturdy and durable, stable support
This bagasse sushi tray has been carefully designed and manufactured for excellent robustness and durability. They can stably carry a variety of sushi and other small food items, ensuring that your food presentation and dining process is safer and more comfortable.
Whether for professional kitchen use or family gatherings, bagasse sushi trays show their stable support. Whether you enjoy it at home or dine out, this bagasse sushi tray provides a reliable experience for you to enjoy a delicious sushi feast.
The delicate and generous, unique texture
Our bagasse sushi trays have a unique texture and beautiful exterior design. It's natural texture and natural tones add a touch of sophistication and elegance to your sushi and cuisine. The bagasse sushi tray has an elegant natural surface for a pleasant dining experience.
Whether a commercial restaurant or a family gathering, bagasse sushi trays can present a high-quality appearance that catches the eye and adds to your meal. Choose our bagasse sushi tray, and you will not only enjoy delicious food but also experience a unique visual feast.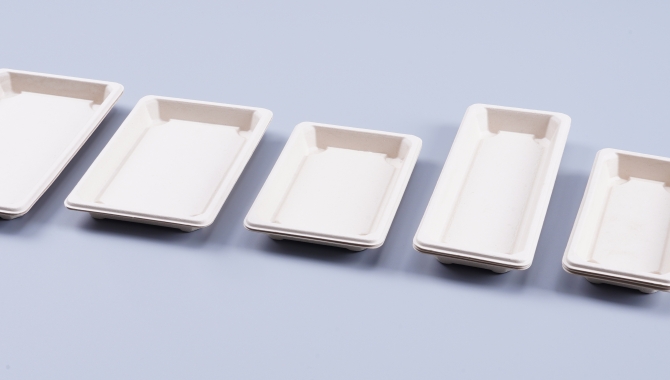 Product Parameters Information
Product ID:SS-04
Weight (Base/Lid): 10/8g
Capacity: 4oz
Dim: Base 164*890*21mm/Lid 165*950*30mm
Available Color:  🔲White
Description: Lid and Base Seperate; Bagasse; 
Biodegradable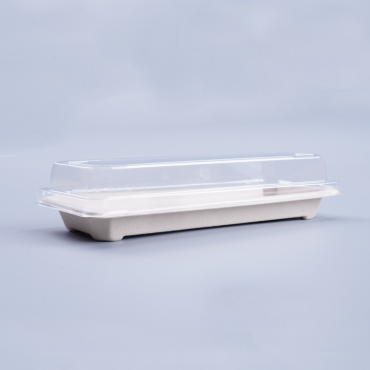 Product ID:SS-06
Weight (Base/Lid): 13/12g
Capacity: 6oz
Dim: Base 221*920*22mm/Lid 225*980*30mm
Available Color:  🔲White
Description: Lid and Base Seperate; Bagasse; 
Biodegradable
Product ID:SS-08
Weight (Base/Lid): 12/11g
Capacity: 8oz
Dim: Base 165*115*21mm/Lid 170*110*30mm
Available Color:  🔲White
Description: Lid and Base Seperate; Bagasse; 
Biodegradable
Product ID:SS-10
Weight (Base/Lid): 14/13g
Capacity: 10oz
Dim: Base 185*128*21mm/Lid 188*130*30mm
Available Color:  🔲White
Description: Lid and Base Seperate; Bagasse; 
Biodegradable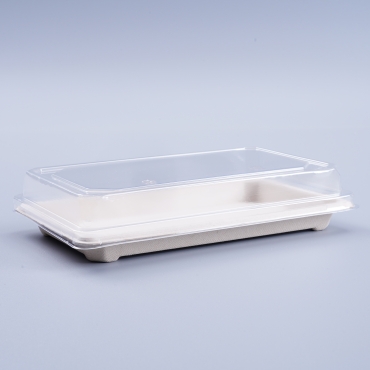 Product ID:SS-15
Weight (Base/Lid): 17/17g
Capacity: 15oz
Dim: Base 216*136*20mm/Lid 220*138*30mm
Available Color:  🔲White
Description: Lid and Base Seperate; Bagasse; 
Biodegradable
Product Details Introduction
PRODUCT ID
PACKING
(PCS/CTN)
CASE DIM
(L/mm)
CTN DIM
(W/mm)
CASE DIM
(H/mm)
LID DIM
(L*W*H/mm)
CASE CUBE
(Base&Lid/m³)
SS-04
500
595
190
175
480*270*350
0.0198/0.0454
SS-06
500
540
225
200
510*270*470
0.0243/0.0647
SS-08
500
580
180
240
610*270*350
0.0251/0.0576
SS-10
500
555
275
195
670*270*400
0.0298/0.0724
SS-15
500
550
290
225
710*270*450
0.0359/0.0863