STLPak Bagasse Clamshell Containers
STLPak bagasse clamshell containers are made from bagasse, a natural byproduct of sugarcane production. This renewable resource is an excellent alternative to traditional plastic or foam containers, as it offers numerous environmental and food benefits. As a leading company in the industry, we are dedicated to providing sustainable and eco-friendly packaging solutions for businesses and individuals alike.
Customers love the small and delicate design of our Bagasse Clamshell Containers, which adds a touch of elegance to their meals. Made from high-quality bagasse food-grade materials, these containers ensure safety and hygiene for your food.If you have any questions or want to discuss customization options, our friendly team is here to assist you. Join us in embracing a greener future with Bagasse Clamshell Containers!
Product Application Range
Succade
Nut
Biscuits
Cereals
Food-grade bagasse material, eating safety
Made from 100% food grade bagasse material, the bagasse clamshell container ensures food safety and is environmentally friendly, enabling you to enjoy delicious food while contributing to the environment.
Waterproof,oil-proof, microwavable refrigerable
The bagasse clamshell containers have excellent waterproof and oil-proof properties to avoid food leakage and box deformation. The bagasse clamshell container can heat food in the microwave or refrigerate it. Whether hot or cold, you can easily preserve and heat your food, keeping it fresh and tasty.
Smooth plate surface, box body embossed design
The container surface is smooth and flat, easy to clean and eat. In addition, the bcontainer is embossed to provide excellent slip resistance, ensuring that your food is safe and you will enjoy a pleasant dining experience.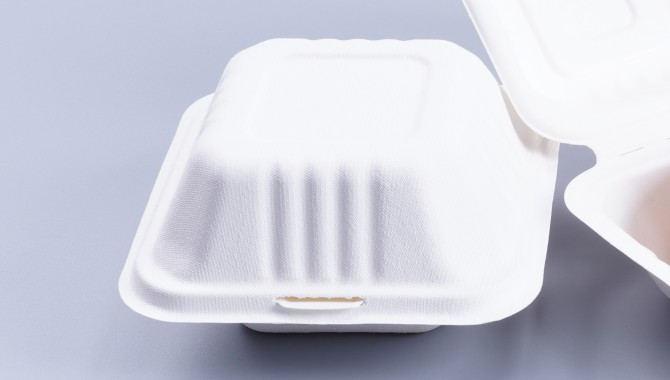 Product Parameters Information
Product ID:STL-061
Weight: 21g
Capacity: 450ml/16oz
Dim: Unfold 152*152*75mm/Fold 152*309*44mm
Available Color:  🔲White
Description: Calmshell Hamburger container; Bagasse;
Biodegradable
Product ID:KY-61
Weight: 21g
Capacity: 450ml/16oz
Dim: Unfold 152*152*78mm/Fold 152*309*49mm
Available Color:  🔲White
Description: Calmshell Hamburger container; Bagasse;
Biodegradable
Product ID:STL-83
Weight: 21g
Capacity: 450ml/16oz
Dim: Unfold 220*200*77mm/Fold 445*308*45mm
Available Color:  🔲White
Description: Calmshell Hamburger container; Bagasse;
Biodegradable
Product Details Introduction
PRODUCT ID
PACKING
(PCS/CTN)
CASE DIM
(L/mm)
CTN DIM
(W/mm)
CASE DIM
(H/mm)
CASE CUBE
(m³)
STL-061
500
480
310
315
0.0469
KY-61
500
530
310
315
0.0518
STL-83
200
450
360
210
0.0340