ShiTuLi Sauce Container
ShiTuLi sauce container is made of PP, a safe and hygienic material. The container adopts the design of a concave and convex buckle so that the bottom and the top are tightly wrapped, and the bottom and the cover are fitted to make the sauce box sealed and fresh-keeping. The thickened design makes the sauce container strong and not easy to deform. The style has two kinds of one-piece and separate, compact appearance, convenient packaging, delicate and easy to use.
The sauce container can hold sauces or store dried fruits. In addition, this series of sauces have different specifications. You can choose suitable sauces according to your own needs. Please send us your inquiries now!
Hot Sale Product
S-2.5&5OZ
The sauce cup with a compartment is a new design that is popular with people.
Product Parameters Information

Takeaway
Picnic
Household
Supermarket
Clamshell design, tight buckle
Clamshell design with hinge cover, intimate and beautiful, easy to open and close, easy to carry. The clamping design around the sauce cup is tightly sealed, not easy to spill, soup and food do not taste, can be recycled, fashion and simple.
Thickened material, extrusion is not easy to break
Carefully selected materials, using thickened PP food grade material, hardness and toughness, extrusion is not easy to break, suitable for takeout packaging and holding a variety of seasonings and accessories, variety, to meet the needs of your food escort.
Product Parameters Information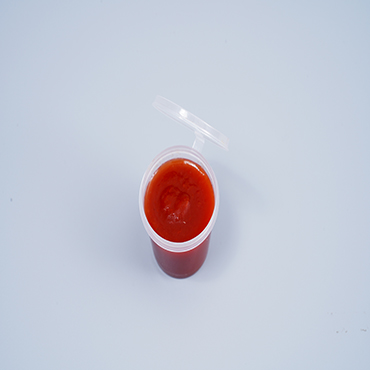 Product ID:S-1OZ
Capacity : 1oz/25ml
Dim : 37*29*33mm
Color : Clear
QTY : 2000PCS/CTN
Style : Hinged lid
Product ID:S-1.5OZ
Capacity : 1.5oz/40ml
Dim : 48*38*34mm
Color : Clear
QTY : 1000PCS/CTN
Style : Hinged lid
Product ID:S-2OZ
Capacity : 2oz/50ml
Dim : 55*45*34mm
Color : Clear
QTY : 1000PCS/CTN
Style : Hinged lid
Product ID:S-3OZ
Capacity : 3oz/75ml
Dim : 61*48*40mm
Color : Clear
QTY : 1000PCS/CTN
Style : Hinged lid
Product ID:S-4OZ
Capacity : 4oz/100ml
Dim : 63*53*40mm
Color : Clear
QTY : 1000PCS/CTN
Style : Hinged lid
Product ID:S-2.5&5OZ
Capacity : 2.5&5oz/115ml
Dim : 140*85*25mm
Color : Clear
QTY : 1000PCS/CTN
Style : Compartment