STLPak Clear Egg Carton
STLPak Clear Egg Carton is made of highly transparent, thickened PET material. The carton is transparent and breathable, allowing you to see the inside of the egg carton. In addition, the earthquake-proof design prevents the eggs from vibrating, moves the position, and allows the eggs to be easily stacked, saving space and bearing weight. HDPE material egg cartons can use for egg, daily turnover, and long-distance transportation.
The two kinds of egg cartons are safe for storing eggs and are very convenient. Each egg tank is a careful care of eggs, widely used in shopping malls, supermarkets, farms, and other places. Please send us your inquiries now!
Advantages of Clear Egg Carton

Great Quality
The clear egg carton uses PET or HDPE food-grade material with high technology, purity, and quality. Its durability can be used repeatedly, reducing the waste of resources.
Specialized Design
The clear egg carton uses a special design to prevent them from colliding with each other and breaking during transport and storage, ensuring the integrity and quality of eggs.
Easy to Manage
The clear egg carton can hold multiple eggs and is usually arranged in standard sizes, making them easy to count, manage, and store. This way can ensure eggs' freshness.

Water Resistance
The clear egg carton usually has some water resistance, which means they do not absorb moisture or become soft, thus maintaining the dryness and quality of the eggs.
Upgrade the Design of Anti-shock & Anti-squeeze Buckle
Corrugated egg grooves prevent egg vibration. A corrugated design is firmer, better protects the egg from being squeezed, the groove is deepened, the material is thickened, not easy to deform, stable, and strong.
The clear egg carton can support personalized labeling service, and various specifications can be customized on demand.
The Tray Inner Column Is Cleverly Designed
Thickened anti-collision column, thoughtful design, and professional production technology, stable and not easy to store, prevent eggs from shifting or collision damage.
Convenient transportation, avoid tripping caused by egg damage, reduce the transportation risk, the thickened pressure pier is more resistant to pressure.
Clear Egg Carton More Applications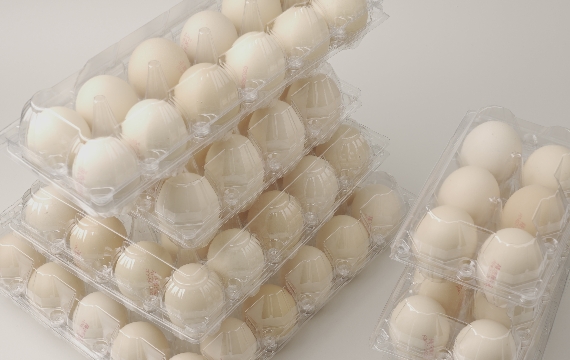 Clear Egg Carton Storage Use: The design of the plastic egg tray is special, keeping each egg in its groove, guaranteeing the integrity of the eggs. It is easy to clean and disinfect and makes eggs dry, providing a clean storage and transport environment and reducing the risk of spreading bacteria and disease. It can hold different kinds and sizes of eggs, about 50g-70g.
Clear Egg Carton Applicable Scope: The plastic egg tray is useful for egg distribution and sales in farms, supermarkets, and catering industries. To store eggs at home or in restaurants is another good idea. The plastic egg tray can be used to make handicrafts such as beads, buttons, sequins, and small pieces of fabric.
Clear Egg Carton Details Display
Product Display
Product Essentials
PRODUCT ID
PACKING
(PCS/CTN)
CASE DIM
(L/mm)
CTN DIM
(W/mm)
CASE DIM
(H/mm)
CASE CUBE
(m³)
STL-J-04
1000
578
390
440
0.099
STL-J-06
800
620
325
440
0.08
STL-J-08
800
578
390
440
0.099
STL-J-10
600
550
480
440
0.116
STL-J-26
600
685
585
460
0.184
STL-J-34
400
650
400
310
0.081
STL-J-35
400
670
480
300
0.096
STL-J-45
200
700
400
240
0.067
STL-J-30
200
740
490
290
0.105
STL-J-30ZB
200
515
480
605
0.149
STL-J-30T
100
300
300
850
0.077